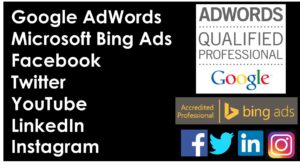 Josh Bernstein Media offers the following digital marketing services for YBN East Cobb members & guests.  We are not an agency or affiliated with any other agency or company.  We're independent and working for small businesses and individuals who have a website or social media presence and want to get the most out of their online assets and generate more leads. We are a Google Qualified Professional company and have completed training and exams in the following areas: Paid Search, Display, Mobile, Video (YouTube) & Analytics. Please view all of our certifications and our client history & experience.
We deliver agency-quality work without the hassle of expensive contracts and no commissions off your media spend.  You will NEVER be charged a commission off what you spend in advertising.  We always charge our clients flat fees that are mutually negotiated before any work is done.
We also give you DIRECT access to your advertising campaigns.  Whether you're doing Google AdWords, Facebook ads, LinkedIn, etc. You will have direct access to your accounts and can see first-hand how they are performing. No third-party portals or websites to navigate through.
To learn more about our background & experience, please view our fact sheet.