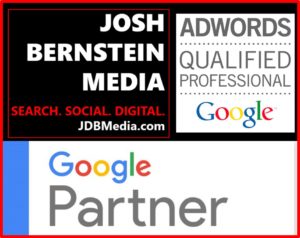 Josh Bernstein Media offers a suite of digital marketing offerings including strategy, management, consulting and full digital campaign builds.
We don't do everything in the realm of digital marketing but what we do, we do very well!  Our main focus is paid search marketing via Google AdWords (Google's paid search advertising platform).
Paid Search Marketing, also known as pay-per click (PPC) advertising, is the most efficient way to have your business to appear on Google and/or Bing.  With PPC, you bid on keywords (what people search) and an ad promoting your business appears and you only pay when your ad is clicked.  Unlike organic search/SEO, paid search can get your website exposure in a matter of days and you don't have to make any changes to your website to get started.  You also have the ability to target your ads to where you want them to appear.  Paid search is a great way to do LOCAL search.  If you run a Google AdWords or Bing Ads campaign, it can be targeted to your service area down to the zip code or even a one-mile radius from your office!
We bring a unique and diverse work history within traditional media, digital marketing, social media advertising, e-commerce, driving brand awareness & direct response marketing on both a national and local scope.
If search marketing may not be in your plans we also create & manage campaigns for the following:
– Social Media Advertising (Facebook, Twitter, LinkedIn)
– Display Advertising via the Google Display Network
– YouTube Sponsored Ads
– Print Media (magazines & B2B trade publications)
We are unique as we offer our clients flat-fee pricing and we never charge commission from your media budget.
Trust a certified expert, trust Josh Bernstein Media.
Contact us today with the form below and let's make your media budget worth a lot more!